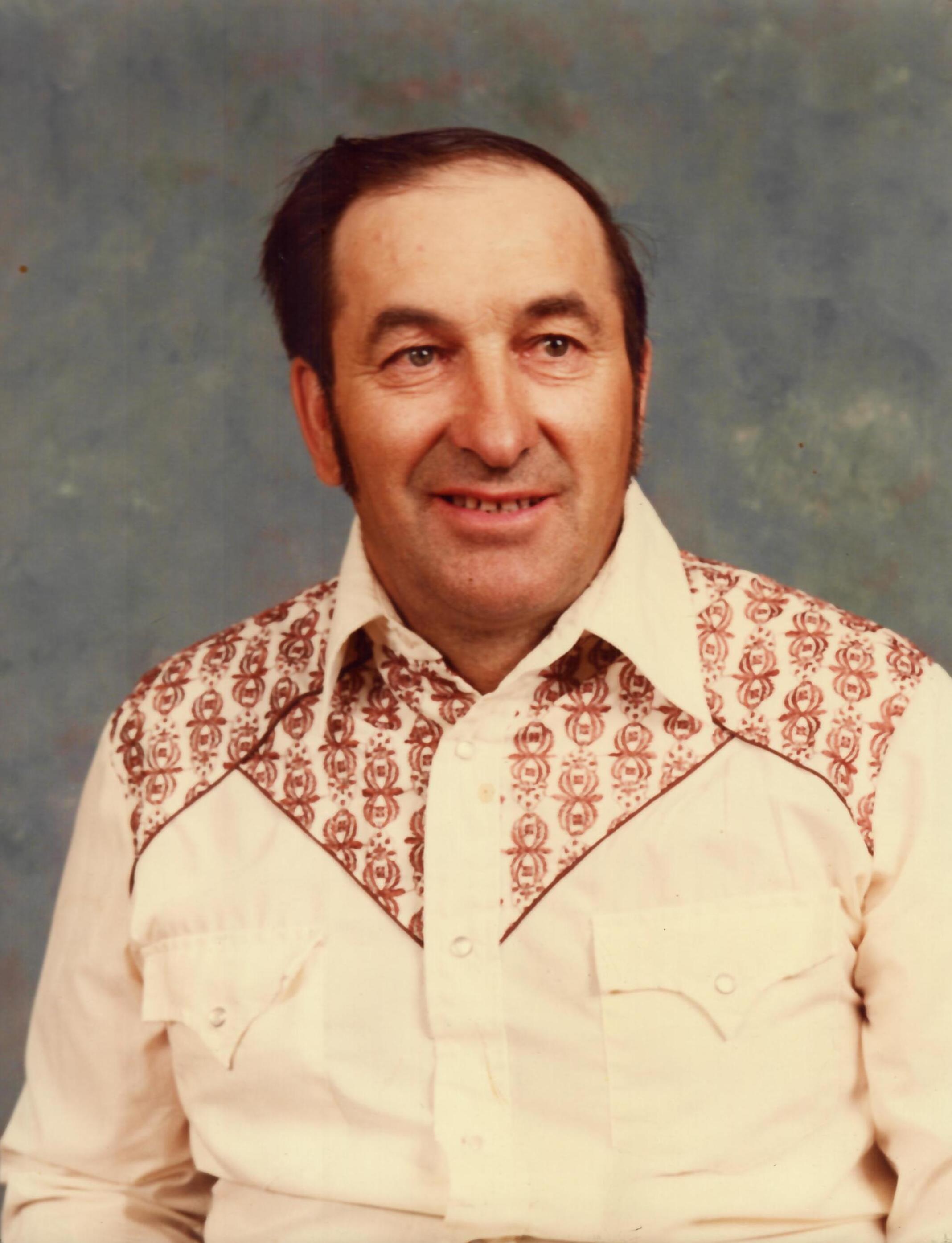 Lawrence Deobald
Lawrence Deobald was born on January 1, 1930, on the family farm in the Hodgeville district. He attended elementary school in the Kelstern area. His mother passed away in 1943 and Lawrence assumed a lot of the household duties. With growing up on the farm he learned the value of hard work. His dad, Henry Sr., and three brothers, Henry Jr., Bill, and Allen, kept the farm going. His desire to farm began to grow. Between working with the threshing crew and CPR rail line he moved to many towns. He began dating Ruth Pouteaux on double dates with Laura and Walter Pouteaux, all tying the knot in 1954. Their first home was in a railroad car with no power or phone for 18 months. They were blessed with three girls, Christine, Marian, and Deldeen. With the help of his father-in-law, Arthur Pouteaux, Lawrence started farming in 1962. His first equipment was a 500 Case diesel tractor, a John Deere 16' cultivator, 12' discer with packers, 18' grain auger, and a 1952 Chev ½ ton. They were gifted a few cows, pigs, and chickens to get started. Large gardens were planted and sold to sustain the growing family. As the herd grew, sheep, ducks, horses, and turkeys were added. Everyone pitched in with the chores and milking cows. The cream was shipped on a quota and the money was used to send their children to camp. Lawrence hunted, made sausage, and sold meat and eggs. Lawrence and Ruth had a busy household with Henry, George, and Dwaine joining them. Throughout the years many foster children came and enjoyed the farm life. The Shamrock community had many opportunities to socialize. Lawrence joined the Lions Club; enjoyed curling, turkey shoots, and hockey games at the rink. His goal was to break 80 acres of pastureland a year. Then he would use the backhoe to bury all the rocks. Between custom baling and combining Lawrence had little time for holidays. Most get-togethers were around a meal and fresh baking. The card games would ensue into the evening. In 1980 Lawrence and Ruth built their dream home in Moose Jaw and resided there for 33 years. They regularly attended the Sunningdale Associated Gospel Church, where Lawrence accepted Jesus as Lord and Savior in 2007 and was baptized. Lawrence worked at the civic center and helped on the farm for many years. They joined the Good Sam Club and went RVing. Lawrence and Ruth started traveling and Fairmont, BC and Florida were their favourite destinations. Life was full of playing pool, senior clubs, and square dancing. Many Christmases were spent in the basement learning to play pool and card games. Lawrence was kind-hearted and soft-spoken, making friends easily. He loved holding the babies and playing with the grandkids. Lawrence and Ruth celebrated their 67th wedding anniversary in June of 2021. Lawrence suffered for many years with rheumatoid arthritis, and cancer at the end of his life. At 91 years old, on July 25, 2021, he went to be with our Lord. Lawrence's loving family, wife of 67 years Ruth Deobald; daughter Christine Jansen, grandchildren Robert (Debbie), Clinton (Krystal), Joseph (Celeste), Cody (Maria) and families; daughter Marian (Charles) Edelman, grandchildren Steven (Megan), Kevin (Sierra), Trevor (Lindsay), Bryce (Ali) and families; daughter Deldeen (Bob) Rusk, grandchildren Ray (Dallas), Avery (Sheraea) and families; George Deobald, Joey, David, Amanda and families; Dwaine Deobald, Matthias, Anthony and families; Lawrence has 40 grandchildren and counting; brothers Bill (Betty) Deobald and Allen Deobald; and sister-in-law Adri Deobald. Reunited in Heaven with his infant daughter Brenda Deobald; son-in-law Bob Jansen; parents Henry and Christina Deobald; brother Henry Deobald; and sister-in-law Eileen Deobald. Family graveside interment took place on Thursday, July 29, 2021, 11:00 a.m., at the Shamrock Cemetery with Sam Hawkins officiating. Celebration of life was held on Thursday, July 29, 2021, 2:00 p.m., at the Church of Christ, Gravelbourg, SK. Pastor was Darrell Buchanan. Scripture reading by Charles Edelman. Music was shared by Edith Dyck, Melody and Donald Pouteaux. Eulogist was Bob Rusk. Treasured memories were shared by Clinton Jansen. Honourary pallbearers were all those who shared in Lawrence's life. Active pallbearers were Robert Jansen, Kevin Edelman, Trevor Edelman, Joe Jansen, Ray Rusk, and Avery Rusk. Ushers were Ron Pouteaux and Joanne Petersen. Memorial donations in memory of Lawrence to the Gideons International In Canada, PO Box 3619, Guelph, ON N1H 7A2, were greatly appreciated.
Dearly missed and loved.
A good man, husband, father, grandfather, and brother.