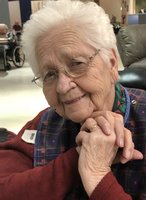 Theresa Thomas
Theresa Eva Thomas of Meyronne, SK passed away on Friday, August 6, 2021, at the age of 92 years. She was born at St. Joseph Hospital in Gravelbourg, SK, on January 20, 1929, to Honorius and Eva Bouvier. She began her school days at Glenarchy School in 1936. When the family moved to the farm south of Meyronne she rode the cutter to Spiral School until it closed in 1941, after which she attended Meyronne Separate School. Theresa's mother taught her to make bread and cook, and after she passed away in 1941 Theresa kept house and cared for her younger siblings. In 1949, Theresa married John Thomas. They lived south of Meyronne and were blessed with 5 children, Eva, Rita, Henry, Marie and Marion. Theresa enjoyed raising her family and working outdoors. She was an avid gardener and passionate quilter. Theresa was an excellent cook, canned produce from her garden, and always made fresh homemade bread and buns. She loved to make her specialty fruit cake for Christmas and treasured time spent with her children and grandchildren. Theresa was a loving mother, grandmother, great grandmother and great-great grandmother.
Theresa's family, husband John (dec'd 1991) Thomas; daughter Eva (Dennis) Kopp, grandchildren Nina, Tim (Kerri Lynn), David (Donna); daughter Rita (dec'd 2006) (Sheldon dec'd 2018) Miller, grandchildren Wendy (Dean), Shane (Nova), Michelle (Daryl), Michael (Neelie); son Henry Thomas, grandchildren Curtis (Crystal), Steven (Damara), Clayton; daughter Marie Thomas (Barry), granddaughter Tiffany; daughter Marion Russell, grandson Johnathan; numerous great grandchildren and great-great grandchildren; sister Marie Gavelin; sister-in-law Lillian Bouvier. Predeceased by her parents Honorius and Eva (nee Landry) Bouvier; brothers Alex Bouvier, Magloire Bouvier, Daniel (Theresa) Bouvier, Raymond Bouvier; sisters Cécile (Adolphe) Lalonde, Jeanne Brault; brother-in-law Ellis Gavelin.
Funeral Mass will be held on Saturday, September 11, 2021, at 1:00 p.m., at the Meyronne Hall, Meyronne, SK. Private family interment will take place at the Meyronne Cemetery, followed by a time of lunch and fellowship in the hall.