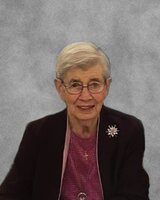 Rita Cayer
It is with great sadness we announce that Rita Therese Cayer (Leduc) passed away peacefully at the Assiniboia Union Hospital LTC at the age of 87 on Sept. 10, 2021.
Rita was the eldest child of Arthur Leduc and Clara Poirier, and was born on November 14, 1933, on Uncle Leo Delorme's farm west of St. Victor. She started school in Maisonneuve in 1940 and finished her schooling in 1951 in Willow Bunch, Sask.
In the summer of 1951, she met Denis Cayer and they were married October 8, 1952. They moved to the farm and mom was kept busy raising 7 children. She always had a big garden, raised chickens, did a lot of canning, made her own bread, and sewed most of the children's clothes. She served on many boards and held a certain passion with the church organizations.
In 1992 they moved to their new house in Willow Bunch and 2018 retired to Moose Jaw.
Rita was predeceased by her husband Denis of 68 years on December 10, 2020, her daughter Carmelle, son-in-law Gabriel Lemieux, daughters-in-law Valerie Cayer and Jean Cayer and grandson Colin Cayer.
She took pride in her ever-growing family and is survived by daughter Nichole (Greg) Neff, sons Guy Cayer, Michel (Lee) Cayer, Daniel (Janice) Cayer, Andre (Carla) Cayer, Marc (Corina) Cayer. Grandchildren Warren, Sherilynn, Curtis, Chad, Kendra, Craig, Charlene, Hannah, Amy, Jason, Eric, Tyrell, Reece, Lane, Carson, Jessica, Fabien, Jerrod, Shelia, 35 great grandchildren and 5 great-great grandchildren and special friend of Carmelle's Bill Middleton.
Mother, you left us beautiful memories your love is still our guide, although we cannot see you, you're always at our side.
Funeral Mass will be celebrated on Friday, September 17, 2021, 11:00 a.m., at St. Ignace Roman Catholic Church, Willow Bunch, SK. Interment will take place at St. Ignace Roman Catholic Cemetery.