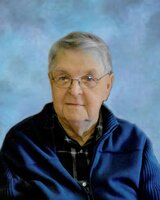 Harold Oelke
Harold Albert Oelke was born on April 23, 1933, at the Vanguard Hospital. He was the elder of two sons born to Alexander and Selma (nee Lau) Oelke. Harold attended Edinburgh School from 1940 to 1944. His parents then purchased the Joe Grismer farm and Harold went to Norfolk School until 1949 when he began high school in Hodgeville. In 1953 Harold rented a half section of land and decided to make farming his career. In 1963 he purchased a section of land and in 1971 he took over the family farm which he operated until his retirement in 2001. Harold loved the land and working with machinery, especially John Deere equipment.
In his earlier years Harold loved to travel in the winter. He and friends visited Spain and several US states including Hawaii. For many years Harold sold vehicles for Parkview Motors in Gravelbourg.
It was Harold's childhood dream to pilot an airplane, and in the early 1980's he attended Keith Mennil's Flying School in Gravelbourg where he earned his pilot's licence in 1983. Harold had a passion for flying and would gladly take family and friends for a flight. His mother Selma made several flights with him to visit his brother, Gerhard, at Big Beaver customs.
Harold loved to hunt and fish and made many trips to Duncairn reservoir and other fishing lakes in southwest SK as well as several northern lakes.
In later years Harold restored many antique tractors, mainly John Deere but there were some Masseys and IH restorations, too.
In 1980 Harold and his parents built a new home in Hodgeville and he lived there until
he moved to the Prairie Wind Estate in Herbert in 2019. Harold passed away in the Herbert Hospital on September 18, 2021 at the age of 88 years. He will be remembered for his gentle nature, kind heart and good sense of humour. Harold was grateful for the many acts of kindness extended to him by friends and neighbours and by the staff at Prairie Wind Estate.
Harold is predeceased by his partner of many years, Gaylene Rossler (2016), parents Alexander (1980) and Selma (1993) Oelke, brother Gary (2018) and sister-in-law Dawn (1986). Left to cherish Harold's memory is his niece Diana (Bruce) Cook and her family.
Graveside funeral service was held on Thursday, September 23, 2021, 2:00 p.m. at the Hodgeville Cemetery, Hodgeville, SK. Officiant was Sam Hawkins. Urn bearer was Diana Cook.
Special music shared was How Great Thou Art and My Old Friend.