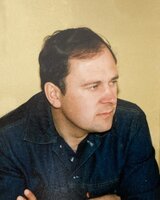 Clark Harper
Clark Alexander Harper was born on September 7, 1950, in Regina, SK. He was the oldest of four children born to Marriott and Edna (nee Hansen) Harper. Clark attended school in Kincaid and upon graduation enrolled in a radio and TV repair course at STI College in Moose Jaw, SK. He then returned to Kincaid and worked alongside his father at Harper's Hardware. In 1987, when Marriott passed away, Clark took over managing the store and helping those around town with minor appliance repairs. Harper's Hardware closed in September 2012. Clark also was an agent for Ackland's, providing Acetylene and Oxygen tanks to local farmers, was an authorized memorial counsellor for Remco Memorials, and enjoyed working at the Kincaid Health Centre. Clark enjoyed going for walks and caring for the local feline community. He had a passion for steam engines, trains, and cars. Clark passed away on September 25, 2021, Kincaid, SK, at the age of 71 years.
Clark is survived by his sister Karen Harper and brother Kim (Sandra) Harper. Predeceased by his parents Marriott (1987) and Edna (2001) Harper, and brother Terry Harper (1983).
A private family service will take place.