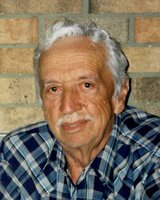 Arthur Schmidt
Arthur Joseph Schmidt was born on April 3, 1933, at the family farm near McCord, SK. He was the fourth of six children born to Joseph and Anna (nee Turner) Schmidt. Art attended school at Bellmuir, which was 2 ½ miles from the family farm. He would travel by horse and buggy, walk, ride horseback, or sometimes take a truck. Art was janitor and did maintenance for the school, both during his school years and afterwards. Once he completed his schooling Art continued to bring his younger sisters, Margaret and Eleanor, to school until it closed in 1957. They had many horse races with the neighbours on the way to school. Art worked on the family farm and raised cattle. He married the love of his life, June Young, on June 24, 1961. They were blessed with two children, Jim and Carla. Art was proud to be part of the community and much fun was had with friends and neighbours over the years at skidoo parties and wiener roasts. In 2018 Art and June retired to Lafleche, SK. Art was passionate about music, playing the mandolin and banjo. He enjoyed entertaining at Thomson Lake jamborees and local care homes. Art passed away on Sunday, November 14, 2021, at the Lafleche and District Health Centre with family at his side.
Arthur's cherished family, wife of 60 years June Schmidt (nee Young); daughter Carla (Paul) Collins, granddaughter Ashley Collins, grandson Colby Collins; son Jim (Crystal Ogle) Schmidt, granddaughter Jalene (Dustin) Jepson, great-grandchildren Alexis and Lincoln, granddaughter Lisa (Brett) Spies, great grandson Levi, grandson Clayton (Bri-Andy Kress) Schmidt, great granddaughter Bexley, step grandson Hewston (Kourtney) Ogle, step great grandchildren Nash and Rypp, step grandson Colten (Emma) Ogle, step granddaughter Chyanne Ogle, step grandson Wyatt Ogle; sisters Margaret Kazeil and Eleanor (Ray) Eberle; sister-in-law Carol Gowan. Predeceased by his parents Joseph and Anna (nee Turner) Schmidt; brothers Karl Schmidt, Julius Schmidt; and sister Marie Smith.
Celebration of Life will be held on Saturday, November 20, 2021, 2:00 p.m., at the McCord Community Hall, McCord, SK. Private family interment will take place at St. Marcel's Roman Catholic Cemetery. For those wishing to view a livestream of the service, please visit https://www.facebook.com/Piche-Hawkins-Grondin-Funeral-Chapels-553681657999926 The service's livestream will become available five minutes prior to service time. Memorial donations in memory of Art may be made to the Heart & Stroke Foundation, 1738 Quebec Ave Unit 26, Saskatoon, SK S7K 1V9.