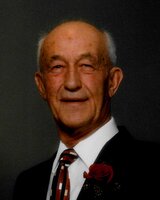 Lucien Chevrier
On December 3, 2021, Lucien Chevrier passed away at St. Joseph's Hospital in Gravelbourg, SK at the age of 88 years.
C'est avec le cœur lourd que nous annonçons le décès de notre cher papa et grand-père, Lucien Chevrier, le 3 décembre 2021 à l'âge de 88 ans.
Lucien was born October 12, 1933, on a farm north of Gravelbourg. He was the only child of Nelson Chevrier and Émilie (née Arams) Chevrier Samoisette.
Lucien married Carmelle Bouvier on December 28, 1954. Gravelbourg was home for them and their five children.
Lucien was predeceased by his wife Carmelle Chevrier (née Bouvier); granddaughter Jaclyn Sparrow; and son-in-law Dennis Reimer.
Left to cherish his memory is his loving family: daughter Paulette (Gary) Sparrow, grandchildren: Ryan (Lindsay), Josh, Lynn, great-granddaughter Kali Arsenault; son Denis (Jocelyne) Chevrier, grandchildren: Janique (Blair) Wilson, Maxim, Arianne, great-grandsons Kierran Wilson, Curtis Wilson; son Alain Chevrier; daughter Lisette (Marc) Freynet, grandsons: Mario, Réjean (Mel), Cédric, great-grandson Jax Freynet; daughter Mona Reimer (Wade), grandchildren: Natasha (Brayden), Zachary.
Sa passion a toujours été de labourer, semer et moissonner. Lucien aimait bien travailler la terre, d'être fermier, d'être agriculteur. C'était son grand rêve depuis son enfance. Il a cultivé la terre pour plus que 70 ans. Tous les enfants et petits-enfants ont de bons souvenirs des randonnées en moissonneuse avec leur Grand-père.
Lucien a toujours fait preuve de ténacité au travail. Il travaillait l'été comme l'hiver. Lucien possédait de nombreux emplois dans la communauté. Malgré son travail ardu, il a toujours été positif, souriant et de bonne humeur.
Lucien aussi consacrait du temps à sa famille. Il aimait bien rire, joué aux cartes et souper en famille. Ses passe-temps préférés étaient de jouer le curling et d'avoir une ronde de golf en été. On a tous eu le plaisir de jouer plusieurs jeux de golfe avec lui.
On n'oubliera jamais les qualités de sens de l'humour, sa gentillesse, et sa patience incroyable de Lucien.
Ce n'est qu'un au revoir. Tu vivras à jamais dans nos cœurs.
Farewell, as you will always be in our hearts.
Funeral Mass will be celebrated on Friday, April 8, 2022, 2:00 p.m., at Our Lady of the Assumption Co-Cathedral, Gravelbourg, SK.
Memorial donations in memory of Lucien to St. Joseph's Hospital/Foyer Foundation are greatly appreciated.