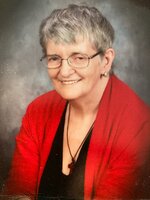 Dona Buchberger
Dona Helen (Anderson) Buchberger was born in Gravelbourg on Oct. 1, 1945. She lived in Coderre, Moose Jaw, Gravelbourg, Wadena, and Saskatoon. She was predeceased by parents Norman Anderson (1963) and Ila Anderson (2010), infant twin sister Helen Anderson (1945), brother Gordon Anderson (2001) and partner Jack Hershick (1987). She is survived by her sister Norma (Bill) Trim, sister-in-law. Patsy Anderson, brother-in-law Dan (Linda) McCarron; Children: Don (Maureen), Audrey (Glenn), and Christina; Grandchildren: Kelsey (Jay), Brenan (Erica), Tamara, (Jordan), Breanne, Nicole, Jonathon, and Renee; Great Grandchildren: Skylar, Bentley, August, Jackson, and Joseph; Nephews and Nieces: Chris (Sue), Jerry, Betty (Trent), Steven, Eleanor (Randy), Margaret, Michelle (Eric), and Marc; Great Nephews and Nieces: Chantelle (Aaron), Michael (Chris), Joel (Branigan), Tony, Anya and Zachary. She also leaves to mourn many beloved cousins, treasured friends and dear extended family members, especially Victor (Shirley) McCarron.
.
Dona was a gentle, caring soul, with a heartwarming sense of humor. She was always cheery and willing to help. She loved going on outings with her family and taught them to appreciate time spent outside camping, picnicking or just walking. Her inner strength was based on the belief that God would protect her and walk with her. She was a devoted homemaker, a loving caregiver, and a lifelong active member of her church. She loved to participate in quilting, and to volunteer her time at Canadian Mental Health in Saskatoon.
After a year-long battle with kidney disease Dona went home to her Lord, on January 9, 2022. Prayer Service for family is on Wednesday, January 12 at 1:30 p.m. in Piche-Hawkins-Grondin Funeral Chapel, Gravelbourg, SK. A public Funeral Service is to be held on August 6, 2022 at 1:00 p.m. at the Coderre Community Centre, Coderre, SK.