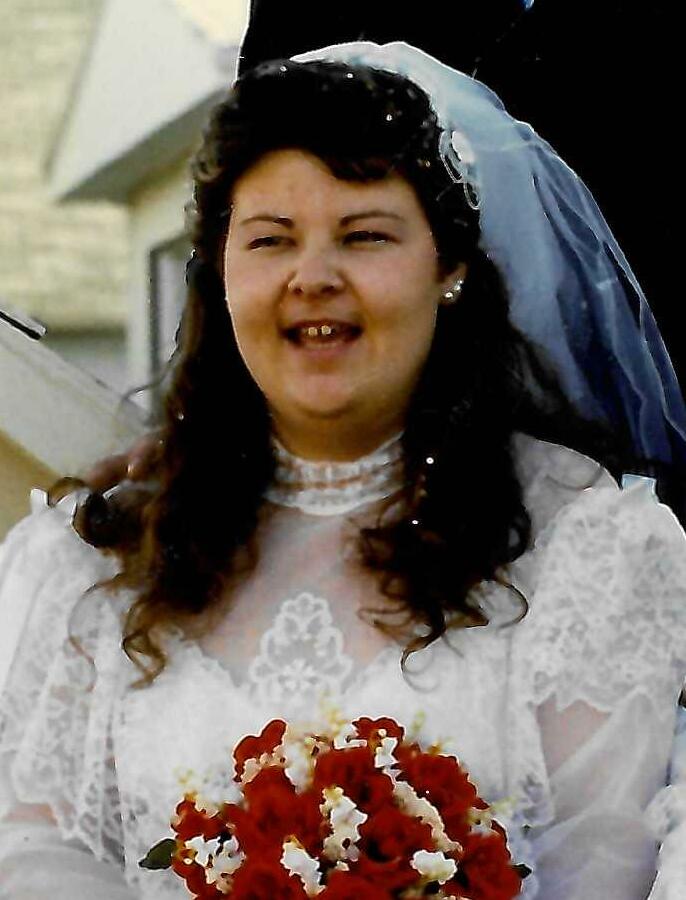 Laurie Parks
With heavy hearts, the family of Laurie Marie Parks would like to announce her passing on January 15, 2022, at the age of 59. Meaning she wouldn't have to turn 60, where she would be twice as mad as when she turned 30.
Laurie was born in Oxbow, Saskatchewan, on October 6, 1962. Mom grew up in Gainsborough, Saskatchewan, with five brothers. Explaining why she could stand up for herself and didn't take anyone's guff. She went to school in Gainsborough until high school, where she attended Carnduff school.
After school, she became an in-home caregiver. Mom looked back at her time with Jane Boyes, whom she looked after fondly. She learned so much from Jane.
Afterwards, she moved to Estevan, Saskatchewan and worked at the Canada Cafe (not the Tower Cafe, Dad). One weekend mom went back to Gainsborough for the weekend with her friends. That weekend, mom met the fool she would end up marrying, even after a series of buffoonery on Cecil's part. They married on September 6, 1986, in Gainsborough.
After mom and dad got married, they moved to Mankota, Saskatchewan. They lived there for a short stint until they moved to Lafleche, Saskatchewan and called it home. Mom worked hard to grow a family, which was the most important to her. Often mom would say: "(she) would love us even if she lived in a cardboard box."
Mom loved to watch movies and read books and would finish books within days. She loved to crochet and cross-stitch, and she would happily show her pieces to whomever she could. But she was also a perfectionist. Even the tiniest of mistakes would make her undo hours of her work just to make sure it was perfect.
She loved to visit over a pot of coffee. People were drawn to her loving and kind spirit. She always seemed to have the latest news. Whenever the conversation involved any history, you knew she was about to bring out her red bible, aka the Memories of the Wood River District. Not only did she have the gift of gab, but she was also a great listener to anyone's problems.
She was always looking to have fun and played games of all different types. For many years dad and mom played poker at the Flying Goose Inn. She was a reckless poker player, never afraid to go all-in. She also loved to play other card games such as 952 with Caroline Graves, Zap with Lisa Berger, and gin rummy with family.
She was your stereotypical bingo lady, lucky charms and all. She would play over 12 cards, and if you were playing beside her with your one card, you needn't worry; she would dab any you missed. She just loved when dad and Uncle Jack would 'dab' her trinkets in retaliation.
There was many a game night at home with mom. She loved to play Mario Kart, Mario Party, and different video games. You had to be very careful as she was very competitive. She would say she did not get mad, she got even, then give you the gnarliest pinch. The shoulder was the target of choice.
Her other talents included playing piano, which she did by ear. You would often hear her play songs like 'Momma's Little Baby Loves Shortening Bread', 'Duke of Earl', and 'Everything I Do, I Do It For You'. She had an extraordinarily green thumb. Walking into the house was like walking into a rainforest. She swore by cold coffee for her plants.
Mom was an animal lover. She just loved her cats, often taking care of any strays that came by the house. But she had a special place in her heart for her dog Copper. Both of them loved to go for rides on the motorbike with dad. Mom even had a special helmet and vest made for Copper to wear on their rides. She loved to go on her walks as well. One would often see her walking from the house to the Co-op to grab a coffee or a cappuccino.
Mom was a caregiver to everyone and the glue of the family. She remembered dates, especially birthdays. She was good at doing the small things that truly mattered: never asked what she could do for you; she would just know what to do. Whether it was to show up to feed you, lend an ear, or hug you with her trademark pats on the back.
Laurie is survived by her loving husband Cecil, her children Bobby and Danielle (Greg Dellow), her dad Robert Seymour, her brothers Larry (Deanna), Dennis (Julie), Raymond (Tammy), Douglas (Ruth), Stan (Debbie) and family not related by blood but by heart: Dave, Bradley (Cassandra), Trent (Shay), and many more close friends that she loved dearly.
She is predeceased by her mom, Margaret "Mugsy" Seymore, son Ryan Mathew, grandma and grandpa Parks, sister-in-law Shannon, close friends Lisa Berger and Debbie Williamson.
As a family, we want to extend our heartfelt thanks to the following:
Thank you to the Lafleche Health Centre for taking excellent care of mom. It made it so much easier to know that she was with good and caring people to look after her.
Thank you to the St. Joseph's Hospital in Gravelbourg for their compassionate care of mom and us as well. Thank you for making her as comfortable as possible.
Thank you to all of our friends and family who reached out to us in our time of sorrow. Please know our door is always open, and your visits mean the world to us.
And course to Piche-Hawkins-Grondin Funeral Chapels and all of your staff from top to bottom. Words cannot express how thankful we are for all of your care of mom and our family. Saskatchewan and Funeral Service is so fortunate to have you.
A celebration of mom's life is being planned for the summer of 2022.