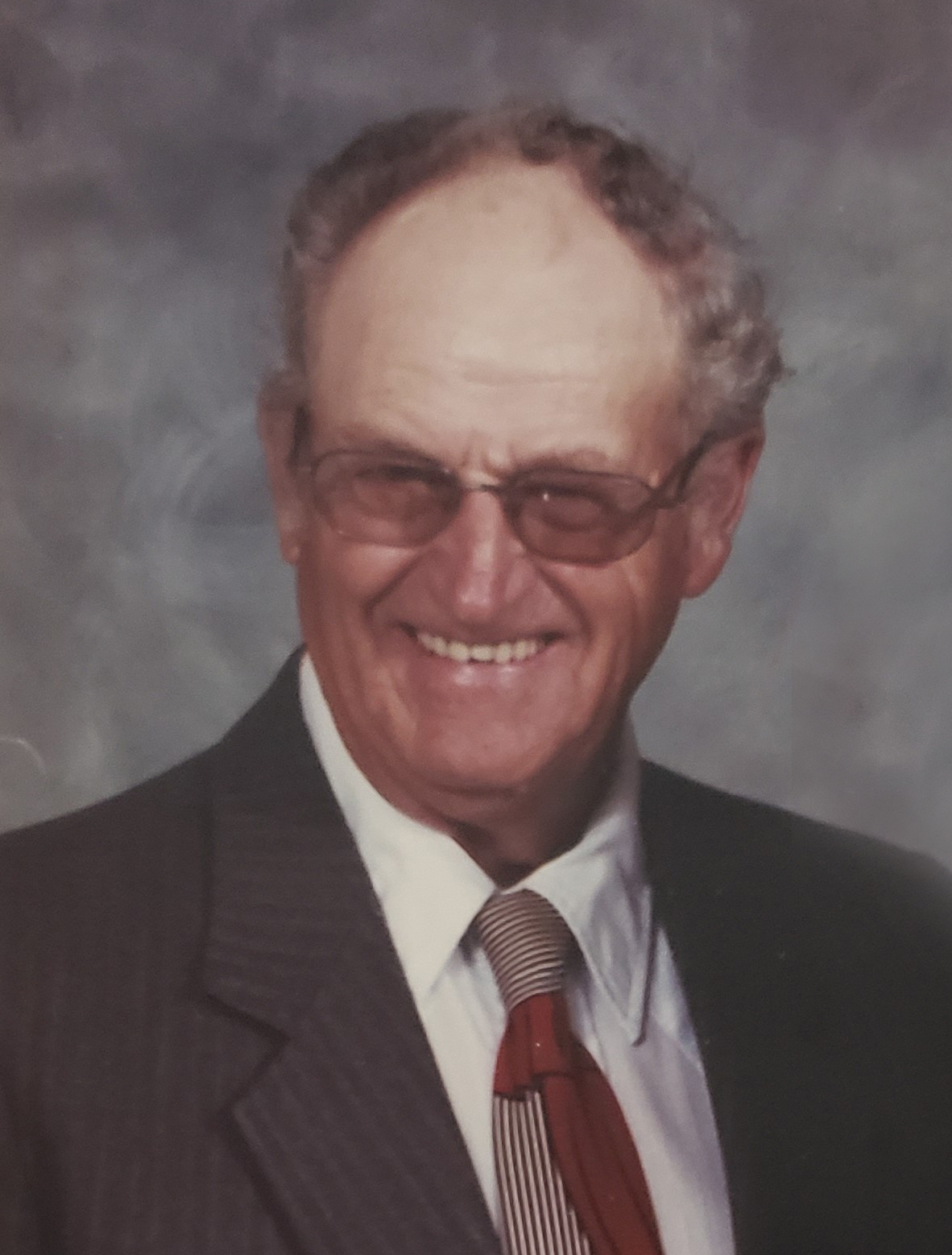 Leroy Layman
Leroy Frank Layman passed away peacefully at the Lafleche & District Health Centre on Tuesday, January 18, 2022, at the age of 91. Leroy, son of Frank and Zola Layman, was born in Lafleche. He received his education at One Mile Coulee, Castlemore, and Melaval. He then farmed with his dad, including custom combining in the USA. In the off-season he worked in the bush in northwest Alberta and for local farmers. He married Melva Schobert on October 27, 1956. He was employed as a partsman with Co-op Implements in Kincaid for a few years. Leroy and Melva purchased the Herb and Edith Shulver (Melva's grandparents') homestead five miles south of Woodrow and continued farming. Leroy enjoyed raising cattle (his "critters") on Maple Hill for nearly five decades and willingly assisted his neighbours with calving and other veterinary-related issues. He continued to work with his cattle until a few months before his passing.
Leroy enjoyed sports. Together with his brother-in-law Gordon Mitchell, Leroy organized the Melaval Baseball Team in 1952. Although they didn't win a game that first year, they bravely played on. The next year, under the management of Russ Patterson, they joined the Dunning League, winning the trophy ten times over the next fifteen years! Leroy was one of the pitchers for this team. His love of baseball continued throughout his life by watching the Blue Jays on television, cheering on his grandsons play in the same Dunning League decades after his own debut, and watching his great-grandchildren circle the bases last year with a grin on his face from ear to ear. Curling was another favourite. He curled well into his 80's; one highlight for him was winning a championship with two of his grandsons, Shaylor and Shelby. A few rounds of golf were enjoyed each year. Leroy hunted with friends and Melva's cousins for elk and moose in northern Saskatchewan and locally with his grandsons every fall. With this, sausage making became an annual tradition.
Leroy loved people; he was very active and dedicated to community and fraternal organizations. In 1970, he received instructor's certification for Hunter Safety and had the pleasure of seeing many youth and adults, including his family (Colleen, Dean, Leah, Shaylor, and Shelby) graduate from the classes he taught. Leroy was the Division 3 Councillor for the RM of Wood River for twenty-eight years, from 1978 until 2006. He was on the Lafleche Library Board for thirty-nine years. Being a loyal member of the Masons and Shriners, he delivered fresh flowers for the Shriners' Children's Hospital fundraising campaign every June and, along with Melva's assistance, helped organize and cook July pancake breakfasts at Thomson Lake for several years. He served multiple terms as Worthy Patron for the Order of the Eastern Star both in Limerick and Assiniboia and was a faithful member of the Woodrow and Lafleche United Church congregation. Whether it was a chat at coffee row or a happy-hour visit with life-long friends, Leroy was happiest when he was with people.
Family is a gift that lasts forever. Sunday Layman Family gatherings at Gram Layman's and annual family picnics with his sisters and their families were treasured times over the years. Summer adventures to various points in Saskatchewan were enjoyed with the Schobert side of the family (Kay, Gordon, Doug, Arlene, and Harvey). From travelling to BC to visit Colleen, Bert, Andrew, and Celia; to going for supper to the "neighbours next door" (Dean and Leah's) for the past forty years; to making homemade ice cream together; to watching grandchildren and great-grandchildren giggle and run through the sprinkler or blow bubbles in the sparkle of the sun, times shared with Leroy will be kept in our hearts.
Cheerio…until we meet again.
Leroy was predeceased by his parents, Frank and Zola (Cox) Layman; his parents-in-law, Pete and Ethel Schobert; brothers-in-law Morris Harding, Ron Harding, George Mattson, Dennis Harding, Gordon Mitchell, and Harvey Woodard. Leroy is survived by his loving wife of 65 years, Melva; two children: Colleen (Bert) Ramsey and Dean (Leah) Layman; four grandchildren: Shaylor (Carlee) Layman, Shelby (Julie) Layman, Andrew Ramsey, and Celia Ramsey; five great-grandchildren (affectionately known to him as his "Little Muffins" and "Dolls"): Lawson Layman, Lexi Layman, Arianne Layman, Zola Layman, and Emeric Layman. He will be missed by four, loving sisters: Lois Harding, Millie Harding, Ruth Mattson, and Evelyn Harding; and two sisters-in-law: Kay Mitchell and Arlene Woodard. Memories of Uncle Leroy will be treasured by his nieces and nephews and their families.
Funeral service was held at Lafleche United Church on Sunday, January 23, 2022, at 2:30 P.M. presided by Rev. Janelle Shaw. Urn bearer was Dean Layman. Candle Lighter was Shelby Layman. Eulogist was Shaylor Layman. Reader was Lawson Layman. Music was by Duane and Penny Filson. Interment followed at Woodrow Municipal Cemetery. Memorial donations to Shriners Children's Hospitals, c/o Wa Wa Shrine Centre, 2065 Hamilton Street, Regina, SK S4P 2E1 are greatly appreciated.