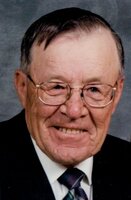 Joseph Dayne
It is with great sadness we announce the passing of Joseph Francis Dayne at Providence Place in Moose Jaw, SK. He joined his wife Leona, and sons Tim and Greg in heaven on February 9, 2022.
Joseph Francis Dayne (Dzingielowski) was born in Kelstern on February 28, 1925. He met Leona Fryza in Winnipeg at a hall on the second floor where the building swayed as they danced! They got married on July 6, 1950 and moved back to farm close to the Dzingielowski family homestead. They were blessed with their children Carla, Tim and Greg who kept Joe and Leona on their toes. Joe was an active member of the Catholic Church and became a Deacon. He was a member of the Elks and a Grand Knight with Knights of Columbus. Joe loved to tell stories and could strike up a conversation with anyone almost anywhere which led to an entertaining career as an auctioneer. A skill he practiced at many family functions. He enjoyed fishing, curling, playing hockey, and umping baseball. Joe was a farmer but had a true passion for woodworking. He would spend many hours in his shop creating cabinetry, toys, furniture, or tinkering with tools. After retiring from farming, Joe and Leona moved to Swift Current where through the church and his love of woodworking Joe made many more friends. Joe and Leona later moved to Moose Jaw to be closer to their daughter Carla. Joe loved Leona and his family. He was patient, kind, creative, hardworking, and he was always willing to help others. He has left us all with so many great memories and will be deeply missed.
Joe is survived by his daughter Carla (Rick) Maier, grandson Jason (Santana) Dayne, great grandson Tyler, grandson Josh (Teila) Shimshaw, great grandsons Kaiden and Jaxon, great granddaughter Presley, grandson Tyson (Mandy) Maier, great granddaughter Georgia, sisters-in-law Rita Dayne and Jean Dayne.
Joe is predeceased by his wife Leona, sons Tim and Greg, parents Joseph and Sophia Dzingielowski (Radiuk), sisters Josefa (in infancy), Rose Dayne, Ann (Jake) Braun, Julie (Lloyd) Nichols, Caroline (Sygmunt) Tejszerski, Josephine Dayne, his brothers Carl Dzingielowski, Frank (Helen) Dayne, John (Rita) Dayne, Mike Dayne and Leo Dayne.
A private family Funeral Mass will take place. A Celebration of Life will be held at a later date.