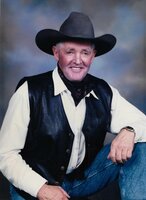 Tom Jenkins
It is with great sadness we announce after a brief illness the passing of Charles Thomas (Tom) Jenkins on the morning of February 14th, 2022 in the St. Joseph's Hospital in Gravelbourg, SK. Tom was born in Alberta in the Pincher Creek Hospital on Dec 8th, 1930, to Stephen Walter (Walt) Jenkins and Georgie Graham (Gee) Jenkins (née Huddleston) and was raised on the ranch adjacent to Waterton Lakes National Park. His school years were mostly spent at Parkview, a nearby country school. Each morning he and his beloved little sister Mic rode their horse Henry the three miles across the hills and then back again that afternoon.
Tom began ranching and cowboying full time as a teenager and many of his most formative memories were spent on horseback riding between the ranches on the Waterton River and various grazing leases in Waterton Park, and on the Kainai Reserve, the Great Northern and Castle River. In 1965 he met Frances (Franki) Dimmock and in 1968 they were married. In the succeeding years they had three children together: Elizabeth, David and Peter. He loved his family with all his tremendous heart.
Tom loved widely and well, not only immediate family but also nieces, nephews, cousins, friends and neighbours. He loved the ranching tradition, the land and the lore of the land. He knew his cows as individuals, by look and lineage, and could identify them at extraordinary distances. Where others saw a nondescript field Tom saw a vibrant pasture of rough fescue, western wheatgrass and giant wild rye. He saw nesting bobolinks and fierce Ferruginous hawks. He saw the trails, both ancient and modern, and on those trails he saw the shades of those who had lived in and worked those lands in the past. He used to say his experience of the divine was most alive in nature.
In 2001 Tom and Franki and Pete sold to the Nature Conservancy and bought a ranch in the Wood Mountain Uplands of southern Saskatchewan. It was in these hills at the Wood Mountain Post that Tom's grandpa Harry had served with the NWMP when he first came west from P.E.I. in 1885. Harry used his scrip from the NWMP to establish the original Jenkins ranch on the Waterton River. Tom appreciated the poetic symmetry of his and his family's return to Wood Mountain. Shortly after the move Pete met Jill (née Mastad) and in the next few years the first two of Tom's grandchildren were born (Tyson and Cuyler). They lived in the same yard on the ranch and their presence in his life brought Tom daily doses of joy and laughter and youthful enthusiasms. As they grew Tom would go around town telling proud stories about them at every opportunity. In 2014 Elizabeth had a son (Joshua). The three boys were the light of Tom's last years. In 2015 he and Franki travelled to Toronto to baby-sit Josh for a month, an experience he greatly enjoyed, although he remarked with characteristic humour that he was the only one in all of Toronto to wear a cowboy hat. Elizabeth's neighbours were very taken by the gentlemanly cowboy who went walking with his grandson every day. In December of 2021 Elizabeth and Josh came to Saskatchewan for another of their frequent visits. David had returned to the ranch in the late summer of that year. Tom delighted at the collected vitality of having all his grandsons in a room. Being surrounded by his whole family brought him obvious happiness. It was a blessed reunion for everyone. We are profoundly grateful Tom lived long enough to see in his grandsons the shape and substance of the men they will become.
It was an honourable and worthy life, and a long one, yet it remains difficult to say good-bye. It is with heavy hearts that we wish him love and safe passage as he mounts his horse a final time and rides off to join the others. We watch and wave as he follows the gently flowing river toward the green hills, where a herd of fine Hereford cattle graze the long grass, and, farther in the distance, the blue Canadian Rockies shine in the sun.
Tom was predeceased by his mother Gee and father Walt; by his sister Muriel Maude (Mickey) and by his brothers Irwin Walter (Joe) and Robert Coulson (Bob). He is survived by his wife Frances; children Elizabeth, David and Peter; daughter-in-law Jill; and grandchildren Tyson, Cuyler and Joshua.
A Celebration of Life will be held at a later date.