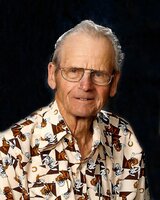 Melvin Noess
On Monday, February 21, 2022, Mel left us to find greener pastures. Born on the Wondersprings family farm at Vantage, SK on January 16, 1930, he and his brother Stewart worked tirelessly in the fields and with the livestock, always striving to grow the best crop with the best machinery, create the best herd, breed and ride the best Quarter Horses. He was renowned for his great work ethic, his honesty, his generosity, and his familial ways with all animals. In 1967 he was proud to be the recipient of the SQHA 10-year grand champion award for total point showing and horsemanship of his horse Lexa Linda. In 1967 he met a young widow, Edith, at the John Deere dealership, and they married the following year. He learned a hard lesson – that it was easier to ride bucking horses than it was to raise Carla and Lars! As Lars became more involved in farming, Mel diversified to become a part-owner of Versatile/Deutz-Allis Implements for a few years. He was the proud recipient of the Century Farm designation in 2012. Special times were trips to friends' ranches, livestock sales, family reunions with his American cousins, and scouting out Arizona. He continued to farm and ranch until 2021 when our old cowboy was feeling worn out, so he reluctantly found good homes for his treasured pets and moved into the town of Assiniboia.
Predeceased by his father Albert, mother Mabel, sister Joyce, brother Stew and step-grandson Jeremy Rousseau. Mel is survived by his wife Edith (Coldwell, Tjeltveit), daughter Carla (Louis) Lafrance and their sons Matthew and Luc, son Lars (Dionne) Tjeltveit and their children Joshua Rousseau, Kristie (Derek) Howe and their children Tylar, Hayden, Allix and Dylan Howe, Scott (Sara) Sawin and their children Peyton, Hannah and William Sawin, Andrew (Jazmin) Tjeltveit and their children Rowyn and Bo Tjeltveit, Cassie (Leon) McCann and their daughter Addison McCann, beloved sister Illa Mitchell, nephew Ross (Charlene) Buchanan and family, and niece Nancy Buchanan.
Mel's wishes were that a friends' and families' scattering of ashes on his Wonderspring Farm take place after the calves have come and the seeds are planted.
In all of his experiences, his newfound friendships developed into lifelong bonds and treasured memories. For this, his family thanks all of you.
Celebration of Life
Friday, July 22, 2022, at 3:00 p.m.
Wondersprings Family Farm
13 Miles North of Assiniboia on Highway 2
Or 2 Miles South of Mitch's Meats on Highway 2
Then 1 Mile East and ½ Mile North
There will be markers along the road