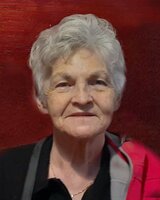 Denise St Jacques
Denise Thérèse St Jacques of Glentworth, SK passed away on Friday, February 25, 2022, at the age of 75 years. Denise was born on December 26, 1946, in Gravelbourg, SK. She was the fourth of eight children born to Philemon and Yvonne Lizée, and their first child to be born at the Gravelbourg Hospital. Denise attended Lefort School, where she completed grade 6. She then continued her education at the Couvent Jésus-Marie, completing her grade 10. She began working as a cook at the hospital in Gravelbourg, and later cooked at the College Mathieu. While at her sister Aline's wedding Denise met the love of her life, Charles St Jacques. They were married on March 1, 1965. Denise and Charles made their home in the Glentworth district where they raised their family. Denise was a wonderful cook and baker and was known for her delicious bread, cakes, and tuna casserole. She loved to grow a large garden and shared vegetables with friends and family. She would can pickles, relishes, jams and jellies, and made an amazing salad dressing for her homegrown lettuce. Denise was devoted to her faith and ensured that her children grew up with Catholic values. She believed in the power of prayer and prayed the rosary daily. Denise loved to read and sing, and enjoyed watching the Young and the Restless. She loved spending time with her family, and her grandchildren were her greatest joy.
Denise is survived by her loving family, husband of 57 years Charles St Jacques; son Robert St Jacques; son Ronald (Laurette) St Jacques, grandchildren Jocelyne, Daniel, Lyndsay; daughter Debbie (George) Chrusch, granddaughter Sarah; siblings Julienne Podevin, Marc André Lizée, Ronald (Johanne) Lizée; brother-in-law Marcel Facette. Predeceased by her daughter Carmen St Jacques (1966); son Guy St Jacques (1972); parents Philemon and Yvonne (nee Lagassé) Lizée; siblings Alain Lizée, Jeannine Facette, Aline (Roland) Tetreault, Cecile (Louis) Gauthier; sister-in-law Marilyn Lynn Lizée; brother-in-law Werner Podevin.
Prayers will be held on Friday, March 4, 2022, 8:00 p.m., at Piche-Hawkins-Grondin Funeral Chapels, Gravelbourg, SK, with Monique Morin presiding. Funeral Mass will be celebrated on Saturday, March 5, 2022, 2:00 p.m., at Our Lady of the Assumption Co-Cathedral, Gravelbourg, SK, with Father Carlos Jimenez celebrant. Memorial donations in memory of Denise to the Alzheimer Society of Saskatchewan, 301-2550 12th Avenue, Regina, SK S4P 3X1 and Masses are greatly appreciated.