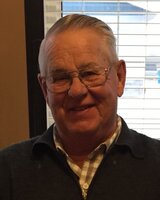 Orval McComb
It is with great love and sadness that we announce the passing of Orval David McComb of Biggar, SK on March 5, 2022, at age 82. Orval has been reunited and welcomed into the arms of his son Dwain McComb (2008), his parents Robert and Marie McComb, along with other family and friends who passed before him.
Orval will be lovingly remembered by his wife of 61 years Edith (Edie), two daughters Darla (Nick) Perry of Regina and Dayna McComb (Trent Wszolek) of Biggar; three granddaughters - Katelyn (Tanner Mitchell) of Regina, Kendra Perry of Calgary, Cassidy Kelliher of Biggar; one grandson Coye Kelliher of Biggar, three step grandchildren J'Lynn, Nolan and Eryn Wszolek, and special niece Margie Newton all of Biggar.
Orval was born in Shoal Lake, MB on May 6, 1939, growing up in a bustling house with 2 sisters Grace and Patricia and 3 brothers Bob, Wayne and Ken. Orval's life journey took him to many communities throughout Manitoba, Alberta, and Saskatchewan; and he always made community involvement, family, and friends a priority.
Orval loved playing ball, curling, hockey, golfing and hobby farming, but his true passion was music, and heaven has gained a new band member. Orval was the drummer in various bands (Northern Ramblers, Ramblers, We Three, and the Biggar United Church); even gaining some radio time on CFAR in Flin Flon, Manitoba. Orval loved to play his guitar and sing every chance he got. His guitar was one of the first items packed in his trailer. Campfire sing-alongs were frequent, especially at rodeos where Orval was an announcer for the Canadian Professional Chuckwagon Association. Anyone in attendance will remember his enthusiastic call "And Down The Stretch They Come".
Orval's professional career included involvement in several associations including the Junior Chamber of Commerce, Jaycees, Biggar Agriculture Society, and President of the Saskatchewan Hotel Association (1997-1999).
Orval was the owner and operator of the Westwinds Motor Hotel for 30 years, and worked tirelessly to ensure that customer experience was nothing less than 5-Star. He continued to be a hotel handy man even after his retirement. When not at work, you could find Orval in his backyard gazebo with old time music playing on the radio and his mini fridge stocked for friends who would drop in.
A Celebration of Life will be held on May 7, 2022 @2:00 pm in the Biggar Community Hall – 319 – 1st Ave. E, Biggar, SK. In lieu of flowers, donations can be made to Ride for Dad in Support of PCFF (Prostate Cancer Fight Foundation).