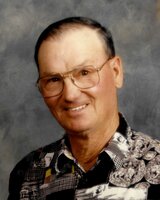 Ken Craig
Kenneth Leroy Craig of Mossbank, SK passed away on Saturday, April 3, 2022, at the age of 93 years. Ken was born on August 17, 1928, at Mossbank, SK. He was the eighth of nine children born to John and Elsie (nee Fordyce) Craig. Ken met the love of his life, Jeanette Howlett, while she was working at the Red and White Store in Mossbank. They were married on June 18, 1952. Ken and Jeanette were blessed with four children, Garry, Merlyn, Dale, and Janice. They made their home on the farm seven and a half miles south of Mossbank, in the Vantage district. Ken was a grain farmer and raised purebred Herefords. Later he had Hereford and Charolais crossed cattle. In the late 90s, Ken and Jeanette moved into Mossbank, and Ken continued to farm from town. Farming and cattle were Ken's life, and he loved the farm. Jeanette passed away on October 24, 2000. Ken remained in Mossbank, and after his 90th birthday moved to the Furrows and Faith Villa. In April 2021 he moved to Long Term Care in Assiniboia. He loved spending time with his family and friends. Ken was a true gentleman who will be remembered for his kindness. He will be dearly missed.
Ken is survived by his son Garry (Leslie) Craig, granddaughter Lissa Craig (Tony); son Merlyn Craig; son Dale Craig, grandchildren Shae Lynn Craig, Kenny Craig; daughter Janice Craig (Ken Schick), grandsons Brandt Schick (Caron), Riley Schick (Cassy), Jordan Schick (Emily); brother and best friend Doug Craig; brother-in-law Leslie Howlett; sister-in-law Joyce Howlett; and numerous nieces and nephews.
Predeceased by his wife Jeanette (nee Howlett) Craig; parents John and Elsie (nee Fordyce) Craig; siblings Ruth (Doug) Whitaker, Cleave (Dorothy) Craig, Elwood Craig, Charles "Bud" (Rayma) Craig, Everett (Marj) Craig, Lawrence (Phyllis) Craig, Fern (Roy) Tollefson; sisters-in-law Orla Craig, Dorine (Robert) Forrest, Doris (Waldy) Krauss, Ethel Howlett, Fern (Ernest) Nelson, Yvonne (Ken) Goertz; brothers-in-law Wilfred (Ruby) Howlett, Gordon Howlett, Victor (Lil) Howlett, and Harry Howlett.
Funeral Service will be held on Saturday, April 9, 2022, 1:00 p.m., at the Cornerstone Gospel Church, Mossbank, SK, with Wendy Gibson officiating. Interment will take place at the Mossbank Cemetery. Memorial donations in memory of Ken may be made to the Furrows and Faith Retirement Cooperative Ltd., Box 129, Mossbank, SK S0H 3G0.