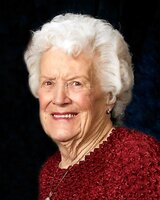 Edith Noess
Noess, Edith Rosala (Nee Coldwell): Predeceased by her husband Mel Noess on Feb 21, 2022, husband Carl Tjeltveit in 1965, parents George and Hannah Coldwell, brothers Clarence and Don, sister Evelyn Domes, step-grandson Jeremy Rousseau, Edith is survived by her daughter Carla (Louis) and their sons Matthew and Luc, son Lars (Dionne) Tjeltveit and their children Joshua Rousseau, Kristie (Derek) Howe and their children Tylar, Hayden, Allix and Dylan Howe, Scott (Sara) Sawin and their children Peyton, Hannah and William Sawin, Andrew (Jazmin) Tjeltveit and their children Rowyn and Bo Tjeltveit, Cassie (Leon) McCann and their daughter Addison McCann, two brothers Lloyd Coldwell, Les (Bev) Coldwell, sister Christine Stasuik, and sisters-in-law Illa (Noess) Mitchell, Noella Coldwell and Jean Coldwell. It is said that life is a mission, and that dying on your birthday signifies completion of your God-given mission. And Edith did it with Gusto! Born April 6, 1928, a child of the depression, and the eldest of seven, her life began with hard work, long days, and a careful watch over the family and its budget. She loved life then, surrounded by as many family and friends she could find. School days at Hepworth School were memorable… even the 3 and 1/2 mile walk to and from. At the age of 16, she worked at the Assiniboia Airport, and maintained friendships with some colleagues, notably centenarian Ruth Wilson-Biggs. At the age of 18, she headed to the big city and became a telephone operator, gathering many more friends, and a boyfriend, teacher Carl Tjeltveit. Life took her on a new path, that of Air Force wife, and the world opened widely. With two children in tow, they lived in many provinces and France, all the while gathering newfound cousins and friends. Master bridge player, operetta singer, curler, dancer, were added to her resume. After Carl's passing in 1965, she returned to her roots - to Readlyn and Assiniboia. She began work at the John Deere Implement dealership, and it wasn't long before she caught the eye of a young cowboy, Mel Noess. So began her new branch of life, as kitchen mechanic, bookkeeper, bargain shopper, veterinarian, seamstress, gardener, meteorologist. Her table was always ready for a few more, on a budget that would put us all to shame. And she sent a few Federal Tax Auditors running for the hills, their heads spinning with regulations she taught them. A long-time member of the Legion Auxiliary, she made fast work in the kitchen, and eagerly brought home leftover potatoes to make Norwegian Lefsa. Edith was known for pushing us aside - "I'll do it. Let's get crackin'." She loved bus touring, ocean cruises, dancing, pets big and small, and….talking. There was no one in Assiniboia that she'd meet and, after a few minutes, find a connection. She was a fountain of knowledge of family histories. The last two years were especially trying for her as she lost her ability to speak and eat. She rose to the challenge, communicating by writing and Facebook, all the while living independently until her passing. The last few weeks she busied herself making Lars' favourite foods, and baking for the grandkids. The biggest of thank you's to her Assiniboia condo neighbours, her farming friends, her town friends, Dr. Carulei, the Assiniboia Hospital and home care staff, and the many Pasqua Hospital staff. She lived life to the fullest, relishing every twist and turn, and thankful for every one of her 94 years. As per her plans – "Hold off, Carla. You can have a double funeral in the late spring", there will be a cowboy style scattering of the ashes on Wonderspring Farm after calving is done, seeding is done, and the roads are dry.
Celebration of Life
Friday, July 22, 2022, at 3:00 p.m.
Wondersprings Family Farm
13 Miles North of Assiniboia on Highway 2
Or 2 Miles South of Mitch's Meats on Highway 2
Then 1 Mile East and ½ Mile North
There will be markers along the road
.