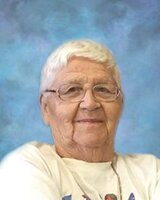 Shirley Galbraith
Shirley Galbraith (Bowman)
April 12, 1930 – April 8, 2022
Shirley Georgina Galbraith (Bowman), the youngest child of Elmer and Annie Bowman, was born in Beechy, SK. She was raised on the family farm south of Beechy and attended Collins School. After completing school, Shirley helped out around the farm.
Shirley met Pat Galbraith and they were married on October 21, 1953. Pat and Shirley worked on ranches in the Maple Creek and Kyle areas where Shirley worked as a cook. In the spring of 1955, they started their own mixed farming operation west of Beechy. Pat and Shirley raised their four children on the farm. In 1996, they moved into Beechy and retired from farming. In 2018, Pat and Shirley moved into retirement homes in Moose Jaw.
Shirley was incredibly hard-working – in the home as a great cook, in the fields, and with the cattle. Pat and Shirley worked side by side throughout their years on the farm. They enjoyed attending rodeos around the province and rarely missed the Beechy rodeo. Country music was also one of Shirley's loves. In the early days, before there was good radio reception, she did a lot of singing while working and during drives in the old truck. In her later years at the Bentley in Moose Jaw, Shirley enjoyed making new friends and spending many evenings playing cards with them.
Shirley is survived by her children Lee (Audrey), Linda (Tony) and their boys Clinton and Travis, Jay Dee, Joanne (Dale) and Joanne's children Melissa, Jesse and Kayla (Matt), great-granddaughters Kaylin (Mike) and Saleen (Jesse), sister-in-law Dorothy McFarlane and numerous nieces, nephews, great-nieces and nephews as well as great-great-nieces and nephews.
Shirley was predeceased by her husband Pat, parents Elmer and Annie, mother and father-in-law Ken and Wylia Galbraith, sisters Eunice Kusisto and Laura Unger, bothers Richard, Norbert and Cecil, sisters-in-law Diane Bowman and Elsie Galbraith, brothers-in-law Doug Unger, Wayne Kusisto, George Galbraith, and Jack McFarlane.
A memorial service for Pat and Shirley will be held on Friday, June 10, 2022, 2:00 p.m., at the Beechy Hall, Beechy, SK.