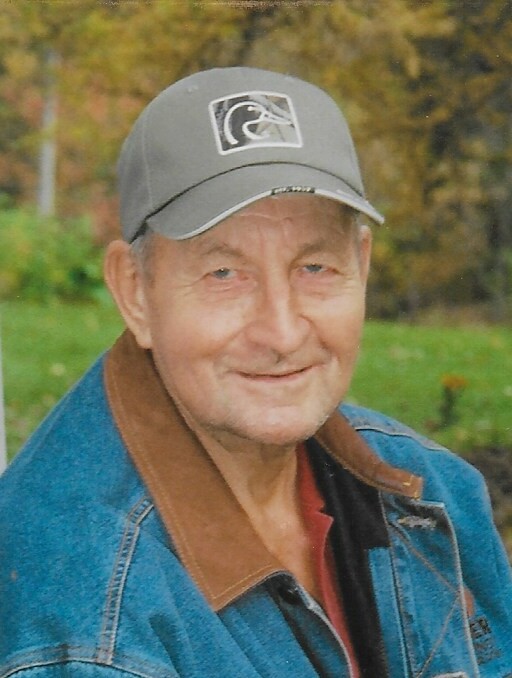 Raymond Anderson
Raymond passed away with his wife Kaye by his side at Coronach Health Center on April 16, 2022. Raymond was born on the family farm in the Redstone area on April 13, 1934, to Soren and Eliza Anderson. Raymond received his Grade 8 education at the Redstone School and was happy to leave school to help on the family farm.
Raymond married Kaye June Thurlow on February 9, 1962. Together they raised their three sons in Big Beaver on the family farm. Raymond loved to work in the fields. So much that when Kaye would bring dinner to the field, he would always have to make just one more round before quitting. Raymond spent hours working with the cattle and would do anything to save a cow. Raymond was an avid hunter, trapper, and fisherman. Many memories were made in the fields with his sons while they searched for the big one. Raymond was an active member of the Big Beaver Kinsmen club and spent a lot of time cooking steak for different events. Raymond's love was always on the farm and with the animals but on January 5, 1992, Raymond suffered a stroke which forced Raymond & Kaye to quit farming and move into the South Winds Manor in Coronach. After they moved into Coronach, Raymond would put on many miles on his scooter while making new friends. He also spent a lot of time playing cards, doing puzzles, and picking berries.
Raymond was predeceased by his parents Soren & Eliza, Brothers Soren (Julienne), Allen & Kenneth, Sisters Edna (Phil) and Ilene (Wallace), In-Laws Mickey & Maggie, Brothers-In-Law Lloyd & Gordon. Raymond is survived by his wife Kaye, Sons Perry, Boyd (Sheila) & Marty, Grandchildren Jeff (Tania), Craig, Kyle, Krystal, Jaycee & Shayla, Great-Grandchildren Nevaeh, Paisley, Everett, Charlee, Greyson, Arlo & Ellie, Sister Ila (Al), Sisters-In-Law Shirley, Sheila, Sandra (George) & Sylvia, as well as Numerous Nieces and Nephews.
The family has requested no flowers, but any donations may be given to the Coronach Health Center for future resident activities. There will be a private family service on May 8th at the Buffalo Gap Cemetery.