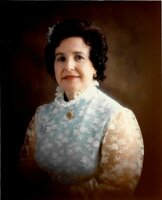 Suzanne Haubrich
Suzanne, age 92, (after a long battle with dementia) passed away peacefully on April 20, 2022, with her "adoptive daughter" Christine Giesinger at her side. Suzanne is now reunited with her loving husband Herb. Survived by her sister Rita Nielsen; sisters-in-law Madeleine Haubrich and Elaine Rambow; as well as several nieces and nephews. Predeceased by her husband Herbert Haubrich; her mother and father Hèlene and Pierre Lapeyre; brothers Peter and John; sisters Lucy and Mary. Suzanne worked at SGI for more than 34 years, retiring on July 18, 1986.
Sometimes life throws us curve balls and our loved ones are gone and there is no one left to care for us. That is when Rick and Christine Giesinger became Suzanne's "adoptive children". Whenever Suzanne talked about Christine, she would always refer to her as her "adoptive daughter". Without a doubt, Suzanne's quality of life was of greatest importance as shown by Rick and Christine's unconditional dedication to Suzanne's every need.
Suzanne had a spice for life like no other. She could throw in humour always at the correct moment that would get you laughing and smiling. Some of her greatest pleasures were eating at a restaurant for a lovely meal enhanced with visiting and of course ice cream all the time. Unless you knew Suzanne before her dementia, you really can not comprehend how sad this really is. Many years ago, one of Suzanne's requests was the lyrics from The Dance by Garth Brooks "And now I'm glad I didn't know, The way it all would end, The way it all would go, Our lives are better left to chance, I could have missed the pain, But I'd of had to miss the dance." Oh, and how Suzanne loved to get dressed up for the dances. In the last few years, all she wanted was a pair of shoes with a "nice heel and leather soles" both of which would work great for dancing. Rick and Christine would like to thank the staff at Bethel Manor for their care and compassion during Suzanne's final days.
The Funeral Mass will be held on Friday, April 29, 2022, 1:00 p.m., at St. Joseph Roman Catholic Church, Hodgeville, SK, with Father Yodel Cereno celebrant. Interment will take place at St. Mathias Roman Catholic Cemetery, Hodgeville, SK. Family and friends so wishing may make donations, in memory of Suzanne, to the Regina Humane Society, 79 Armour Road, RM of Sherwood, SK S4K 0A8 or a charity of your choosing.