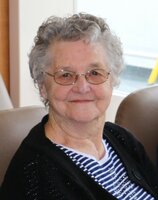 Helen Domes
Helen Annetta Domes (nee George) died peacefully on July 31, 2022 at the Assiniboia Hospital Long Term Care Facility. Her life of 89 years served as a true example of living with kindness and generosity, as she led with quiet strength, unending patience, enduring faith and endless optimism.
Helen was raised northeast of Willow Bunch in the Hoath district. She attended the nearby Anchor School till grade ten, then completed her High School in Verwood, followed by Normal School in Moose Jaw. She went on to teach at the one room Sharon School near her family's farm, and then at Lipton SK before marriage. She continued as a natural teacher throughout her life.
While attending high school in Verwood, Helen met Herb Domes. They later married and began their lives together, raising a family of four daughters. She will be remembered by her family for her warm embrace, quick laughter and utter devotion to family. Helen & Herb celebrated their 65th wedding anniversary in 2019 with family and friends, and managed to celebrate one last anniversary in March of 2020 before Covid restrictions kept them apart for Herb's last days.
Helen & Herb proudly farmed at Verwood for over 50 years and were honoured to celebrate a Century Farm designation in 2007. She could always tell you how many cents a farmer was currently being paid for the loaf of bread you bought at the store. She enjoyed the bounty of a large garden on the farm, picking peas by the wheelbarrow full and filling the freezer with her famous sweet corn.
Helen & Herb enjoyed many trips to the Briar, and later spent winters in Mesa Arizona where they made treasured friends from all over North America. They moved to Assiniboia in 2009, where she enjoyed visiting others, supporting community events, and watching curling and hockey.
Helen never complained. She endured the loss of her daughter Julie, cancer surgery and treatment, heart surgery and assorted complications. She was so grateful for the support and kindness she received in her final years and always marvelled that she checked out of her significant hospital stays with never a bill to pay.
Helen strongly believed in community and always said yes to lending a helping hand. She served on numerous committees and boards, including the Verwood Lutheran Church, Community Hall, Curling Rink and Museum and volunteered with the Assiniboia United Church. She served in the early years of the board of South Country Home Care and worked on the committee that published the Willow Bunch history book. She loved to read and was always ready to produce a clipping or bookmarked page to offer interesting tips and information.
Helen was predeceased by her husband Herb in April 2020, her daughter Julie in 1983 and infant grandson Ibrahim in 2016, as well as her parents Ernest and Minda George, her brother Art George, her father- and mother-in-law, Archie and Olga Domes, her brother- and sister-in-law Jack and Elsie Huber, her brother- and sister-in-law Ed and Mae Domes, her brother- and sister-in-law Bryce and Irene Collings and her sister-in-law Mary Domes. Helen is survived by her daughters Barbara (Bernie), Tracey (Phil) and Merna (Yahia). She leaves behind six beautiful grandchildren: Sarah, Danielle, Emma, Ben, Sydney, and Idriss (who always brought a smile to her face in the last two years). Also mourning her loss is her brother-in-law Art Domes of Portage la Prairie Manitoba, cousins John (Verona) Bilden (Minnesota) and David (Judy) Bilden (Wisconsin) as well as numerous nieces, nephews, and dear friends.
The family thanks the doctors, nurses and many caregivers in Assiniboia that provided Helen with compassionate care during her final years. Donations can be made in Helen's honour to a charity of your choice. A Celebration of Life will be held at a later date.