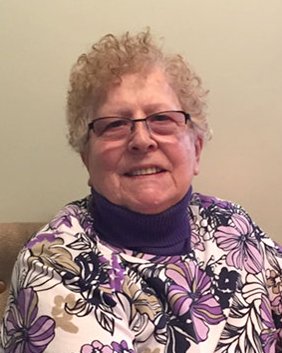 Obituary of Irene Bechal
Irene Theresa (Kornaga) Bechal, age 89, of Mankota, SK passed away at the Prairie View Health Centre on October 14th, 2019. The funeral service was held at 2:30 pm on Saturday, October 19th, 2019 at St. Albert Roman Catholic Church with Father Joseph Strohhofer officiating. Readers were Elaine Muggeridge, Sharon Dunn, and Mike Fahlman. Prayers of the faithful by Stan Colenutt. Offertory gifts by Robert and Shirley Laverdiere. Organist Joan Stengler was accompanied by the Mankota Choir. Ken Kornaga was the urn bearer and Justin Kornaga shared stories and precious memories of Irene. Honour Guard by the Catholic Women's League. Internment service was at the Mankota Cemetery.
Irene was born April 2, 1930 to Anton and Mary Kornaga. She was number 14 of 15 children whom were all born at the family home. Irene was baptized and confirmed at the Gooding Church and attended Middlefold School. Along with stories of hard work and tough times, Irene spoke of fun times, many celebrations, lots of laughter, music and good food. On several trips, Irene and her parents travelled to Ontario and stayed with family during the winter months.
Irene married Bernard (Bennie) Bechal on December 7th, 1970. Together they farmed up until 1989. Irene's interest in farming continued long after retiring. Family always looked forward to gatherings at the house. Uncle Ben was quick to find a favourite movie on VHS and Auntie Irene was not far behind with armfuls of snacks and candy for the kids. One also had to be ready for a quick witted comment or joke shot your way! Good times!!! After Bennie passed away in January 2008 Irene's strong faith kept her grounded within the church and the CWL. Irene often spoke of the trip to Europe in 2010 travelling with her nieces to Poland (birthplace of both her parents), Hungary, the Czech Republic, along with Germany. She also spoke of travelling with family to Alberta and the US.
Irene lived in her own home up until August 2019 and then at the Prairie View Health Centre until her passing. Irene is now home with her Lord. She is reunited with her husband Ben, her mother and father and all her brothers and sisters: Annie, Joseph, Angela, Katherine, Mildred, Anton, Peter, Susan, Helen, Mary, Mike, John, Stanley, and Edward, and all her family and friends. What singing, dancing and accordion playing there will be in Heaven! We are all going to miss this beautiful, kind hearted, and completely selfless Lady.
Donations in Irene's memory may be made to the Mankota and District Auxiliary for the Prairie View Health Centre, Box 390, Mankota, SK S0H 2W0 or Masses.
Funeral Mass
2:30 pm
Saturday, October 19, 2019
St. Albert Roman Catholic Church
335 - 3rd Street West
Mankota, Saskatchewan, Canada
Interment
Mankota Cemetery
25-05-08-3
Mankota, Saskatchewan, Canada
Reception
Will take place at the Mankota Agricultural Hall following the interment.
Assiniboia Chapel
601 Highway 2 N.
Assiniboia, SK
S0H 0B0
Gravelbourg Chapel
100 5th Avenue E.
Gravelbourg, SK
S0H 1X0