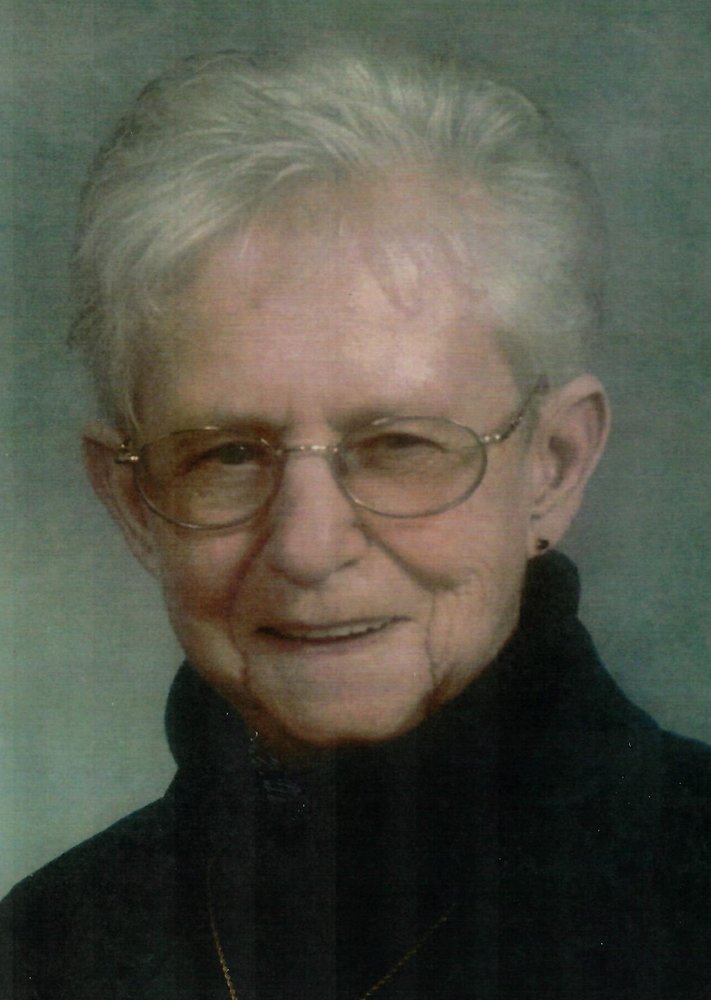 Obituary of Simone Chevrier
Marie Simone Adéline Chevrier of Gravelbourg, SK passed away on Friday, December 27, 2019, at the age of 88 years. Simone was born on February 28, 1931. She was the seventh child of Paul and Alma (née Lacroix) Bouvier. As a student, she travelled 4.5 miles to attend the local country school and later attended the Meyronne Separate School. When Simone was 16 her mother was diagnosed with cancer and passed on August 11, 1948. That year was a difficult one on the family because her younger brother Aime was hospitalized from burns and her older brother Luc was killed in an oil well accident. Simone completed her high schooling in Gravelbourg, took a year of nursing in Moose Jaw and then worked at Gravelbourg Hospital. Simone met Marcel Chevrier shortly afterward, they were married on May 20, 1952. They were blessed with four children. They lived on the farm west of town for 45 years, harvesting their last crop in 1992. In 1997, they sold the farm and moved to Gravelbourg and enjoyed many years being snowbirds in Arizona. Simone and Marcel enjoyed hosting gatherings for their family and friends; playing cards, especially Canasta, dancing, camping, golfing, scrabble, puzzles and traveling. She was a lifelong learner, purchasing a computer at the age of 65, creating a Facebook account, playing computer games and making computerized birthday cards. She loved making all sorts of crafts; straw weaving, pressed straw art, ceramics, crocheting, knitting, paper tole, quilting and gifting her handmade treasures to family and friends. She was an avid gardener, a wonderful cook and baker. She could organize and prepare a meal in a flash. Her birthday cakes were always baked with coins inside. Simone loved to birdwatch and each year she would let a mother sparrow nest on the corner of the awning that covered the window at the farm. Simone and the kids watched the mama bird, building her nest, her eggs hatching, her feeding the babies and then her teaching them to fly. Just like the mama bird, Simone created a home, nurtured her family, fed them well, taught them life lessons, and then sacks the camp. Figure it out, tout seul! Simone was an active community member and spent time counselling many the Al-anon influence, Faith in GOD. GET UP, brush the dirt off your knees, chin up and move on. She believed in you, therefore you believed in yourself. She created strong individuals while living her golden rule: "FAMILY ALWAYS FIRST." In January of 2017, Simone and Marcel moved to Saskatoon. This brought them closer to immediate family and health care facilities. Special thanks to those who cared for Simone when she needed help because of dementia. Simone was a busy, capable, talented, women of faith and lived her life one day at a time. She will be dearly missed by her family and friends. "We Love You Mom" Simone is predeceased by her loving husband Marcel Chevrier (January 16, 2019). Left to cherish her memory is her son Raymond (Vivian) Chevrier, grandson David (Kelsey), grandson Adrien (Stacey), great granddaughter Madisyn, grandson Andrew, granddaughter Janine (Shaun) Heisler, great grandchildren Charlotte, Eli; son Philippe (Lori) Chevrier, granddaughter Nicole (Tyler) Neisz, great grandchildren Carter, Delainey, granddaughter Lisa (John) Koberinski, great grandsons Owen, Anderson; daughter Rosalie (Léo) Magne, grandson Gilbert (Katherine), great grandchildren Mathieu, Néomie, Loïc, Amélyn, granddaughter Lynne (Daniel) Fillion, great grandchildren Julie, Milaine, Sophie, grandson Colin (Tara), great grandson Benjamin; daughter Suzanne Chevrier, grandson Jareth (Arentxa), great grandson Aiden, granddaughter Lannah (Niko). She is also predeceased by her parents Paul and Alma (née Lacroix) Bouvier; siblings Albert, Berthe, Luc, Ida, Donat, Annette, Jules, Aimé, Joseph, Élise. Prayer Service was held on January 4, 2020, at 1:30 p.m. directly followed by the Funeral Mass, at 2:00 p.m., both at Our Lady of the Assumption Co-Cathedral, Gravelbourg, SK. Celebrant was Father Carlos Jimenez. Readers were Gilbert Magne, David Chevrier and Colin Magne. Intentions were shared by Adrien Chevrier and Jareth Hall. Offertory gifts were presented by David Chevrier and Adrien Chevrier. Honourary pallbearers were Lisa Koberinski, Nicole Neisz, Lynne Fillion, Lannah Hall and Janine Heisler. The eulogy was shared by Raymond Chevrier, Philippe Chevrier, Rosalie Magne and Suzanne Chevrier. Interment took place at the Gravelbourg Roman Catholic Cemetery. Memorial donations in memory of Simone to the Gravelbourg Al-Anon Group, Box 553, St. Joseph's Hospital Foundation, Box 810, Gravelbourg, SK S0H 1X0, were greatly appreciated.
Prayers/Funeral Mass
1:30 pm
Saturday, January 4, 2020
Our Lady of the Assumption Co-Cathedral
1st Avenue East
Gravelbourg, Saskatchewan, Canada
Prayer Service and Funeral Mass
Simone Chevrier - Prayer Service/ Funeral Mass Saturday, January 4th, 2020 at Our Lady of the Assumption Co-Cathedral, Gravelbourg, SK 1:30pm with special music, picture tribute and eulogy followed directly by the Funeral Mass.


Assiniboia Chapel
601 Highway 2 N.
Assiniboia, SK
S0H 0B0
Gravelbourg Chapel
100 5th Avenue E.
Gravelbourg, SK
S0H 1X0