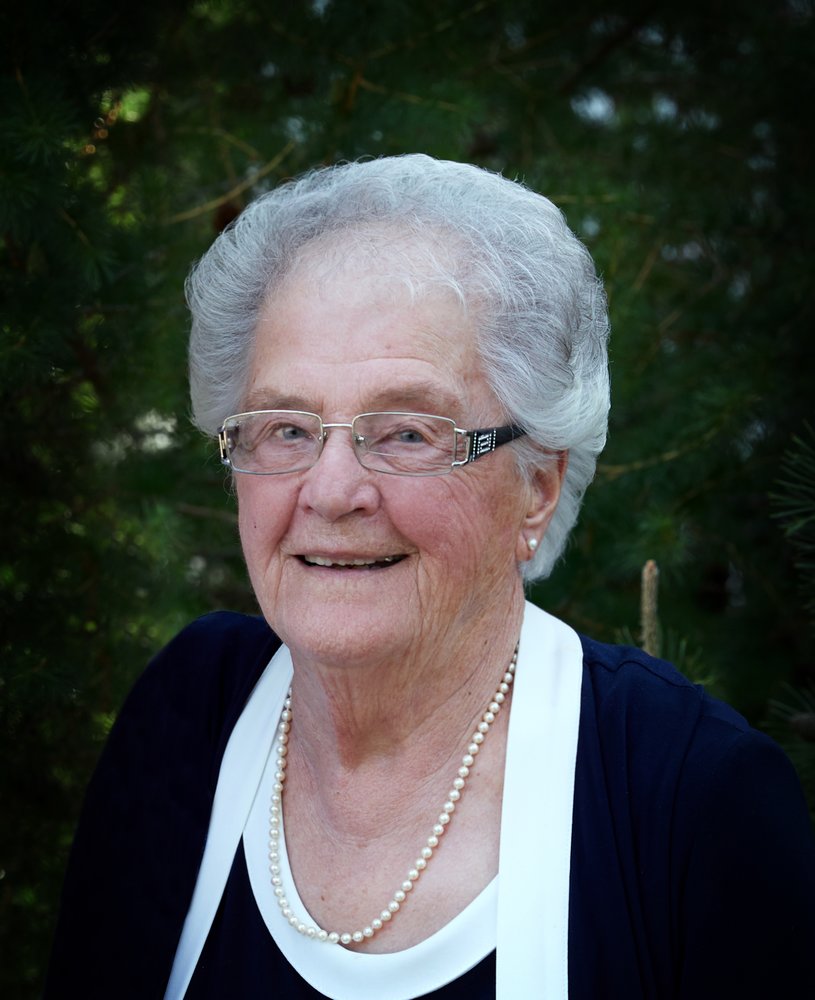 Obituary of Gertrude Brisebois
Gertrude (Chabot) Brisebois
C'est avec beaucoup de tristesse que nous vous faisons part du décès de Gertrude (Chabot) Brisebois. Elle quitte ce bas monde dimanche matin à minuit 45, le 5 avril 2020 à l'hôpital de Moose Jaw. Sa belle âme s'envole vers son Dieu qui l'attend.
Gertrude est née le 3 mai 1925 de parents pionniers Joseph et Laura (Dion) Chabot de Ferland en Saskatchewan. Elle est la cinquième d'une belle et grande famille de douze enfants. Gertrude comme tous les autres de la famille est née à la ferme.
Le 7 juillet 1966 à l'Église St. Jean-Baptiste de Ferland, elle épouse Aimé Brisebois. Ce n'était pas de jeunes amoureux, ils avaient tous les deux 41 ans. Ils ont vécu de belles années comme tous les couples avec des hauts et des bas. La vie de fermier convenait aux deux et ils ont su faire fructifier leur belle ferme. Gertrude aimait jardiner et cuisiner. Nous avons mangé de bons repas chez les Brisebois suivi de parties de cartes jusqu'aux petites heures du matin.
À l'âge de 94 ans, un mois avant ses 95 ans, Gertrude décèdée à l'hôpital de Moose Jaw. Elle laisse dans le deuil son fils Pierre, Roxanne et leur quartre filles : Ashley, Lianne, Courtney et Olivia, ses sœurs Noëlla Girardin, Odélie Couture, Jeannine Chabot et Lauriette MacMullin ainsi que ses belles-sœurs Collette (Liboirin) Chabot, Monique (Massé) Brisebois et Lucie (Brisebois) Pouteaux et son beau-frère Adrien Brisebois. Il y a aussi de nombreux neveux et nièces, cousins et cousines Chabot et Brisebois répandus à travers le Canada.
Gertrude avait la joie de vivre. Elle était très sociable et accueillait les gens avec joie. Elle aimait s'amuser au Curling. Ce jeu la ramène à ses années d'enseignement à plusieurs endroits et elle en a joui jusqu'à très tard dans sa vie. Il ne faut pas oublier, que Gertrude jouait pour gagner! Elle a aussi joui aux quilles pendant de nombreuses années. Jusqu'à la toute fin de sa vie elle a aimé jouer aux cartes : le whist, le '500', le bridge, et le fameux Canasta! Gertrude était une francophone convaincue et dévouée à l'église, la paroisse et la communauté. Elle et sa grande amie Louisa (Bouffard) Lacasse et d'autres ont travaillé de mains fortes pour garder la paroisse et la communauté bien vivantes.
Et voilà, en quelque mots, la mémère qui a choyé et gâté ses petites-filles. Gertrude était une femme forte de l'Évangile. Elle envisageait chaque défi avec courage et détermination.
L'abbé Carlos Jimenez a célébré la Sainte Messe au Salon des pompes funèbres de Gravelbourg, mercredi le 8 avril 2020 pour la famille de Pierre Brisebois et ses deux soeurs Jeannine Chabot et Lauriette MacMullin. L'abbé Joe Strohhofer de Mankota a rencontré en l'après-midi la famille et les deux tantes au cimetière de la Paroisse St. Jean-Baptiste de Ferland pour l'inhumation.
Gertrude (Chabot) Brisebois
It is with great sadness, we announce that Gertrude Brisebois passed away peacefully on Sunday, April 5th at 12:45 a.m. at the Dr. F.H. Wigmore Regional Hospital in Moose Jaw, Saskatchewan, where God was waiting for her with open loving arms.
Gertrude was born on May 3rd, 1925 of pioneer parents Joseph and Laura (Dion) Chabot from Ferland, Saskatchewan. She is the fifth child of a family of twelve. Gertrude, like all her siblings, was born on the family homestead.
On July 7th, 1966 in the St. Jean-Baptiste Church of Ferland, she married Aimé Brisebois. Like all young couples, they had their highs and lows. However, in June 1969 the birth of their son was the highlight of their life. They both loved farming and they were successful in their endeavors. Gertrude loved gardening and cooking. Many enjoyed delicious meals at the Brisebois'.
At the age of 94, one month short of her 95th birthday, Gertrude passed away. Gertrude is survived by: her son Pierre, daughter-in-law Roxanne, and her grandchildren: Ashley, Lianne, Courtney and Olivia; her sisters: Nöella Girardin, Odélie Couture, Jeannine Chabot and Lauriette MacMullin, as well as her sisters-in-law: Colette (Liboiron) Chabot, Monique (Massé) Brisebois, Lucie (Brisebois) Pouteaux and her brother-in-law: Adrien Brisebois. There are also many nephews and nieces.
Gertrude was full of life! She loved sports. She enjoyed curling and bowling. She played these sports until later in life. She played Whist, 500, Bridge and the almighty Canasta. Lest us not forget, Gertrude played to win!
Gertrude was a strong believer in God and a passionate francophone. She was devoted to her parish and her community. She and her close friend, Louisa (Bouffard) Lacasse and others worked diligently to keep their parish and community alive.
In so many words, mémère loved to pamper and spoil her grandchildren. Like the 'strong woman' of the bible, Gertrude encountered every challenge with courage and determination!
A private family funeral mass was held on Wednesday, April 8th at Piché-Hawkins-Grondin Funeral Chapel in Gravelbourg, SK, with Father Carlos Jimenez celebrant. Later in the afternoon, Father Joe Strohhofer met with the family at the Ferland Roman Catholic Cemetery for the Interment.
Memorial donations in memory of Gertrude can be made for masses at the St. Jean-Baptiste Church, Box 96, Ferland, SK S0H 1M0


Assiniboia Chapel
601 Highway 2 N.
Assiniboia, SK
S0H 0B0
Gravelbourg Chapel
100 5th Avenue E.
Gravelbourg, SK
S0H 1X0